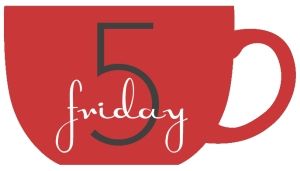 It's Independence Day this week! It is truly one of my favorite holidays. And therefore, you are getting my five around that theme. God Bless America!
1. Favorite Firework Display: Washington, D.C.
Growing up, my dad was in the military. We were stationed at Andrews AFB for a year and so my parents took us into Washington, D.C. for the Fourth. To this day, those are still the best fireworks I've ever experienced. We basically sat at the foot of the Washington Monument and laid on our backs while we watched. We had to spend the whole day there to save our seats, but it was so well worth it. With the music in the background, I still remember it bringing a tear to my eye.
Source: http://www.gvpedia.com
2. Favorite Patriotic Song: America the Beautiful, performed by The Mormon Tabernacle Choir
3. Favorite National Monument: Independence Hall
I have traveled all over the United States. I have been to 48 out of the 50 states (anyone want to send me on an all expense paid trip to Alaska?). I have seen it "from sea to shining sea." And yet, to this day, my favorite National Monument is Independence Hall in Philadelphia. I remember how small it actually is, how hot it was inside during the Summer. I do not know how those men spent hours, days, weeks in that building, in the dead of Summer, wearing full suits and tights and wigs. Honestly, it gives you a perspective as to just how desperately these men wanted freedom for us all.
Source: http://www.globalmountainsummit.org
4. Favorite American Food: Clam Chowder
As long as I can remember, this soup was made in my family. Clam Chowder has always been one of my favorite foods, like, EVER! I requested it for my birthday, when my mom was here to help me when my babies were born, and every time I went to my Grandma Cook's house. I love it in San Francisco, Seattle, San Diego. And don't forget the Sourdough Bread when you serve it to me. Mmmmm-kay? You can find
my recipe
on my old blog, soon to be posted on here!
5. Favorite American Movie: The Patriot
I'm not necessarily a huge fan of Mel Gibson or Heath Ledger. I like both actors, but their performance in The Patriot really touches me. These were Americans. It's what Americans should be. Family. Honor. Country. And fighting for what we know to be right. Every year during Independence Day week, we watch this movie, along with a few others. And if you want to see a good series, I recommend John Adams. Really enlightening.
Source: http://www.imdb.com

So it's a big week for meals. It's also going to be a VERY HOT week for meals here in Las Vegas. We're talking record temperatures, ladies and gentlemen. Ick. It's even to the point where I don't want to be out grilling. But it's the Fourth of July. I'll just have to suck it up a bit. :)
Saturday: Little Caesar's Pizza - do they deliver? I wish.
Sunday: Hoagies (or what others might call a sub sandwich)
Monday: Fettucine Alfredo (Recipe to Follow) with Sauteed Chicken and Steamed Broccoli
Tuesday:
Taco Salad
Wednesday: Grilled Turkey Breast (Recipe to Follow)
Thursday: Hamburgers (nothing fancy, just good old traditional American burgers)
Friday: Crock Pot Lasagna (Recipe to Follow)
I have a special treat for you next week, using Breyers Ice Cream! Oh, it's going to be yummy, AND patriotic!
#breyers #partner