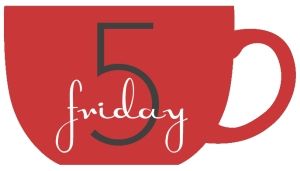 It's Friday! Woo hoo! Do you have anything fun planned for the first official weekend of Summer? I have my mom and sisters in town this weekend, so it's going to be full of girl fun. But first, I had to get this out to you.
1. Favorite Foodie:
Watermelon Pico de Gallo
from Pioneer Woman.
They say that you want what you can't have. That's the exact case with me: I'm allergic to watermelon. All kinds of melon actually. So of course when I come across this recipe, it kills me. Maybe I'll have to pump myself full of Benadryl and indulge. Once again, Rhee, you hit it right on.
2. Favorite Pinterest Find:
Peach Lemonade
This looks amazing! Would be a perfect sipping companion for hot Summer days, don't you think? And it is made with fresh lemons and peaches. The peaches would take the sourness out of the lemons, and it would be like drinking wonderful peach nectar. Mmmmmm... my thirst buds are calling me.
3. Favorite Quote:
I love this. I have no clue who said it, but I love it. I hope that my children learn this from our examples. I think this is a concept that is dying among the younger generations. I get the feeling that they think that their parents just have the things they do because they are adults. They feel entitled. Work is an important concept that I so want my children to embrace.
4. Favorite Funny: Found
here
.
Do I really need to say more? Okay, so maybe I find this so funny because it applies to me and my family. I think this would be The Hubs' motto if he had his wish. And possibly both kiddos. I love how they just put the blanket statement out there - "ANYTHING!!" Sounds like some motherly advice that I give them every day. How many of you moms can relate? :)
5. Favorite Film:
Oz, The Great and Powerful
Have you seen this yet? Maybe it's the little girl in me that waltzed around in my dress and apron, pretending to be Dorothy Gale. Or maybe it's the reader in me that remembers reading the Oz books. But I am in love with this movie. I loved watching the story of how the wizard came to Oz, how the Wicked Witch of the West came to be, it's just so much fun. I know there are a lot of critics out there that did not like this film, but I loved it. And my kids loved it.

Now, for next week's Meal Plan.
Saturday: We're headed to
Roadkill Grill
for some yummy BBQ!
Sunday:
Slow Cooker Ham
Monday: Brinner - Apple Pie Pancakes (Recipe to follow)
Tuesday: Fettucine Alfredo with Grilled Chicken and Steamed Broccoli
Wednesday: Sweet and Sour Chicken Kabobs (Recipe to follow)
Thursday: Mahi Mahi tacos with Watermelon Pico de Gallo (Bring on the Benadryl!)
Friday: Not sure yet, any suggestions?
We're coming to the end of the month. I can't believe how fast June is flying by. Come on, give me a little bloggy love and click on the banner below to vote for me. Thanks!